Sun Aug 27, 2006 10:18 am
#2564
Right then people I need some help,
I throw a Hallowen part once a year. Its not too fancy on the scale of you guys in the US but it is the only Halloween party round these shores so quite a few come.
Over the years I've gone as many a character, Jack Sparrow, BeetleJuice and Mr Incredible. This year I have my heart set on going as Mumm Ra from the classic 80's TV cartoon Thundercats. Now I'm not just talking the old mummy type mumm ra in the red cloak, Nooooo!!! That wouldn't nearly have the impact, no I'm talking about the big blue/grey guy he turns into, you know, crown, muscles big scary red eyes? Heck I'm even going down the gym to get buff for it, thats how serious I am.
Anyway I need some advice on how to go about this costume, 'cos to be honest I havent seen a single image of anyone who has gone to a party as this character. The crown/ helmet is the toughest one for me, I tried doing a prototype out of card and it ended up looking flat and well.... like a paper hat. If you need a reminder of what he looks like: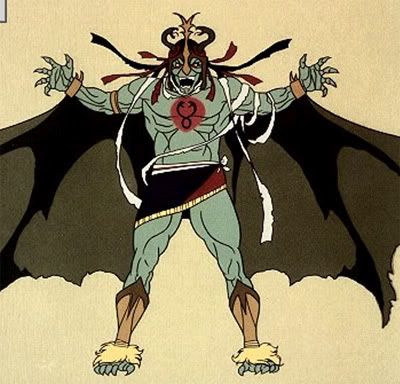 Yeah he's one scary dude and I would love to make the costume work, so any advice would be a bonus.
Dan
Yes, I did do a stencil of the FAKE Joker, I am stupid ya know!!