Thu Oct 10, 2013 2:43 pm
#80406
Greetings all!
I wasn't sure that I'd be posting anything this season. In the last year, I got a pretty big promotion at work, now in management, and time for anything not absolutely necessary has been at a premium, and, then, in the last month, I broke my foot.
You wouldn't think a broken foot would affect pumpkin carving, but it really does. All of my uncarved foam pumpkins are stored in crates in the basement, and the stairs leading to them are an adventure I was pretty unwilling to venture. Even getting the Dremel set up with the bungee cords above my head is a difficult thing to do on one foot.
Yet, I could not NOT carve. 'Tis the season, you know?
I ventured out to Michael's last week during the 50% off sale, and picked up four of their large foam pumpkins. The season will be abbreviated for me, but I'm bound and determined to get these four carved.
Today, I have terrible, terrible cell phone images of the first carve of the season. Proving I'm truly a corporate shill, I did this one for work. I didn't tell anyone I was doing it, I just did it and put it out, and then hobbled (remember, broken foot) back to my office. Reactions have been great, and I hope to get better pics later.
My first carve of the season - The Quality Inn Pumpkin!
Unlit (I painted the green background and black border, since this is being displayed on a desk counter that is lit 24/7):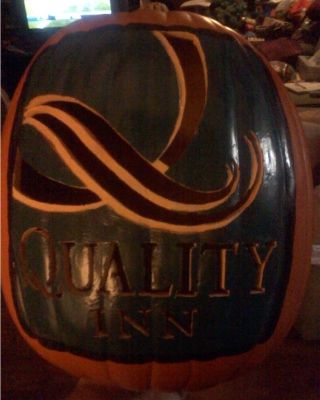 Badly lit by just setting it on top of a lamp (I apologize, this is truly terrible):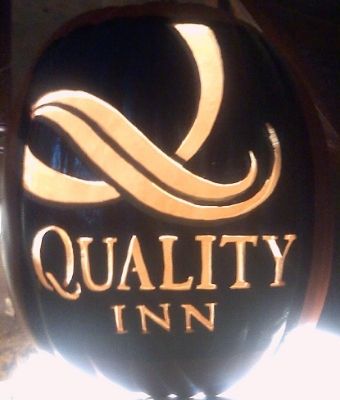 One down, at least three to go! I got plans...