Sun Sep 13, 2015 8:59 pm
#92299
I'm working on a witch theme. I already have a life size witch and cauldron.
This year to add to my yard I'm making witch silhouettes that I will paint black. I will paint a background for them too (not sure what yet).
I started with these 2 pics. A few years back I used the graph method to enlarge stencils for my window'kins. I opted this time to try improvising my own projector. I printed my pics and then traced them onto clear sheet protectors.
I had trouble getting the pic on the left to the height I wanted so I modified it a little.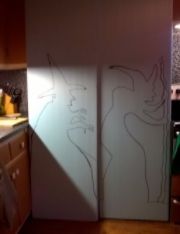 I think think they turned out alright but not as tall as I would have liked. They are a little under 5 feet each.
Next to cut and paint them.
"Double, double toil and trouble; Fire burn, and cauldron bubble."