Thu Oct 22, 2015 1:05 pm
#94593
Gonna keep this as short as possible. I bought a boiler suit (coverall) to do the decorating in and then thought it'd make a great scarecrow which then led me to thinking of buying a Michael Myers mask and getting dressed up for Halloween. I know it's a very easy costume, you don't even have to do any kind of blending with the mask openings but I wanted something easy, something to test the waters without spending a fortune only to chicken out & not to wear it on the night. I don't ever wear a costume for Halloween and haven't done since I was a kid so I'm kinda nervous about it
What I'd like to know is this, is Michael Myers too scary to be answering the door to young trick or treaters as? I only ask because in a test fit I've been told it's too real, too scary. I don't see it myself but maybe I'm blinded because I'm used to seeing 'The Shape' . The mask is made by Trick or Treat studios.
This was only a quick fit, the tags are still on and it doesn't fit perfectly, needs some padding. I don't know, I might just wear it to give a few scares but answer the door as normal, friendly me. You can't really talk as Michael Myers and I do like to have a talk. I'm having a Halloween party so I'll get some use out of it then and I'm thinking it'll make a kickass photo by the sweetcorn patch with some pumpkins in my garden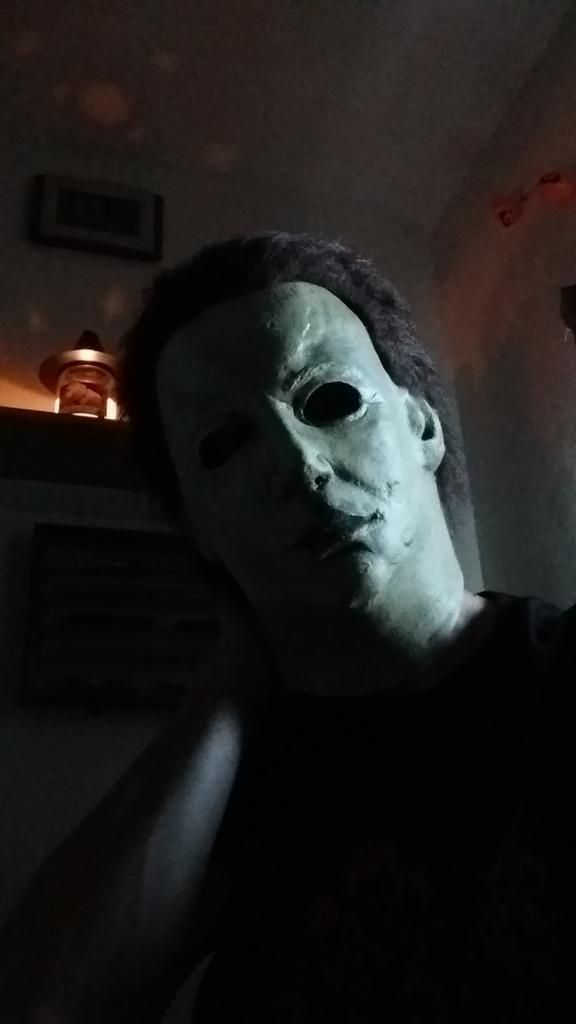 I haven't got a stiff neck or been stabbed through it with a knitting needle
Just holding the flap at the back closed, any tips on how to do this without damaging the mask too much?