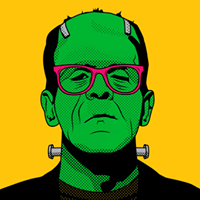 Tue Sep 20, 2016 6:34 am
#96422

I bought (2) of these Years Ago - and Absolutely Love Them
(I got them at Target) And have not Seen them in a many years...
Anywho - I recently spotted them in Lowes - they also have them on their Online Store. $14.95 each
(And I'm 100% Sure you could find Better Patterns and Stencils to carve the Faces) I can think of 2 very good pattern sites
What I did with Mine, Was I cut a small Hole in the Top of the Stand, And Added about 4 inches of Play Sand (with a Funnel) inside. this Weights it Down, and Makes it more Sturdy.
I then Glued the Pumpkins on top of the Stand.
I'll Post a Photo of the Ones I did, (I have the Mummy and Frankenstein) sometime today.. (I have to Dig them Out) And they are around 10 Years Old..
I do Remember - there was also a Witch Body, and a Dracula Body, Pumpkin Stands - But Have not Seen those anywhere...