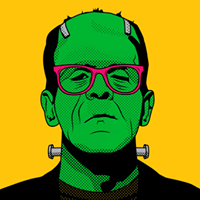 Mon Sep 22, 2014 11:38 am
#87488
I'm the same Way - I wont Promote a Product unless it's a Good Product that Works.. For Me and ALL the carvers...
I figure - I post about the Dremel use - So folks don't Kill a Pumpkin.
I really Did Hope it would work for my use, I love that it Dissolves..
And it would be nice to Get an Order, Print the Pattern, and Carve it in minutes...
I can Still do that with the Sticker paper, But you have to go Slow and Easy Removing it.
I Honestly Didn't think this would work for Dremel Use, But Now I'm 100% Sure it Don't - Because I Tested it... (wish I would have been Wrong) - LOL
At least We Know - How to use the Product and How...
As stated, I will still Use this Product for carving Demos, It's Great on Real Kins (and Yes I do use saws on those) - LOL
So YEA this Product Gets a
From me..