Wed Nov 05, 2008 12:56 pm
#19838
Hello everybody!
A lot of you already know me but for those of you who don't I am the schmuck that came up with the whole glued on pattern idea years ago.
I have read where people have problems cutting through the paper, the paper lifting, and the paper getting wet.
I glue the pattern on and allow it to dry. I then cover the whole pattern with 3" clear tape...(thanks St0ney)...I then trim out the places that I will be shading with and exacto knife. This removes tha paper so that it will not bind the saw or dremel bit. After shading I will trim the paper off of the cut through places. I can get very fine details with this method...in fact I dare say finer than transfer paper and certainly finer that poking.
I realize that this method "takes longer" but considering the fact that I can glue, trim , and shade pumpkins as early as mid September and have them waiting for me to gut them and do the cut through portions in Late October, it is still technically faster than anything else. Here is a picture of the assembly line in progress.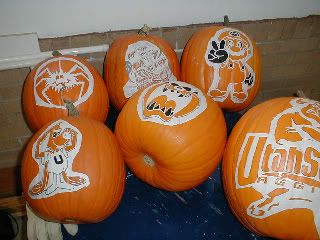 Here is a highly shaded real kin done with the glue method: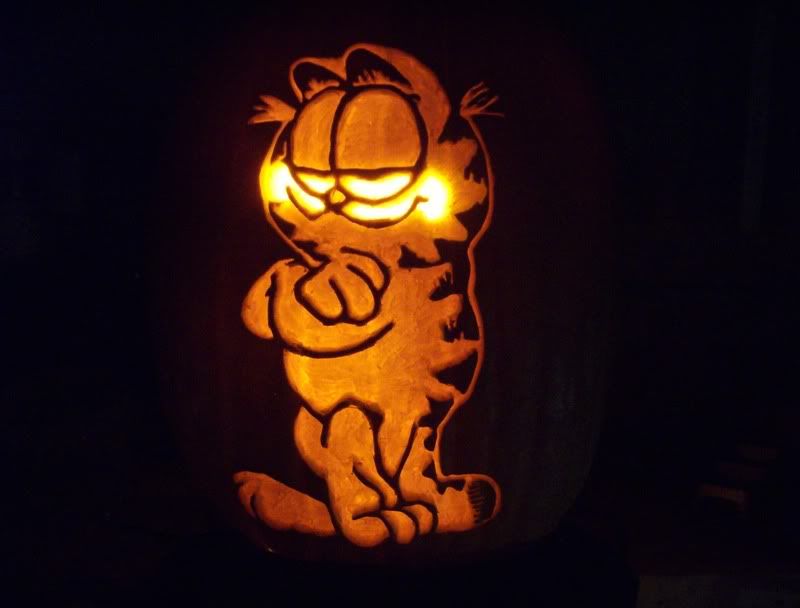 Here is a highly shaded fake kin done with the glue method: