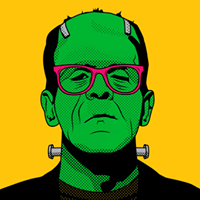 Mon Sep 08, 2014 6:21 pm
#86801
Anyone Else try this?
I was at one of the craft stores, and just happened to see an open Pumpkin Masters carving book.
(Okay when no one was looking I ripped the Sticker that Seals it) - LOL
Any-who they are now promoting just taking the pattern, place it on the pumpkin, and Wrap cling Wrap around the WHOLE Kin...
And Carve through it.
Now I tried this the other night, Actually Bought a Real Pumpkin - to test this On. Because I like this Idea...
(I like anything New and Easy)
I used Normal Food Cling Wrap, and put it on nice and tight, Once I started carving the Cut-Out Pattern the Cling Wrap Slipped off...
So Because I used a few Pieces of tape on the pattern/pumpkin, the pattern was still on.
I then went down my basement, and Grabbed Actual Shrink Wrap - Not the Heated Kind - The Kind that you wrap Boxes to a Pallet with.
Again I went around the pumpkin a few times and it was very tight, The First Couple shapes it worked out Great, then it started to break down,
The plastic was Pulling off all around where the cuts were made... So I bagged the Kin and tossed it...
Let me Know if any of you have any Success with this method,,
I think if your only doing say a Jack-O face, it will work great, anything with Close shapes that need to be cut - wont work...
Now I have to wonder if pumpkin master did any actual testing on this ? I saw in the first few minutes it was not going to work.