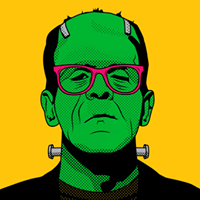 Wed Oct 09, 2013 1:15 am
#80140
This is what I used to do before getting into this pumpkin thang.
Years ago (like 25) I owned a stained glass shop, this was up in my attic, and I took a photo of it today for a post on my forum.
I only have a few pieces left, and my entire portfolio and about $3,000 in tools were stolen in the car that got Stolen.
That was LONG ago. but this was my very first Piece and why I held on to it.
I'm still very proud of it, because, in the class I took, everyone else was making these little sun-catchers,
those small stained glass things that hang in the window with a suction cup and hook. Butterflies, grapes.
This is what I tackled fist time out.