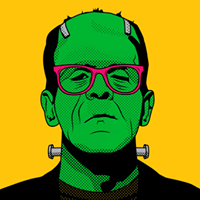 Sat Jul 26, 2014 4:06 pm
#85912
Today I went to (3) Micheal's Stores in Philadelphia 2 of the 3 Already Have Pumpkins out.
If looking for Funkin Brand, the Pumpkin will JUST have a Black dot, on the Bottom. No Numbers Stamped on it. or Silver Tag.
the Funkins have, No Lines inside, and Glows Great !
If the Pumpkin has Numbers stamped on the Bottom - It's a Gemmy.
And Still Has those God-Awful Lines inside.
Note: All Micheal's Pumpkins Both Gemmy and Funkins, are re-branded and will have the (Celebrate It!) Tag on them.
This is What the Micheals Tag Looks Like.