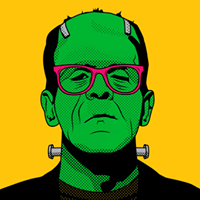 Thu Jun 12, 2014 3:07 pm
#85563
As of Now you can buy one of the New 2014 Pumpkin at Hobby Lobby
Some of the carvers Have purchased them there this Week.
Look for the New Hang Tag - it has this on the Cover.
If ordering OFF the Funkin Website - Make sure you tell them you want the 2014 Models.
The other Stores (Micheal's Joannes and AC Moore) Should start placing them out Next Month.
What I just Posted on FB !
At this Point in Time, I want to Publicly THANK Fun-Kins !
For YEARS we have been trying to get These few Companies, that make foam pumpkins, to make their products work even better, for the 10's of 1000's of folks that enjoy carving foam pumpkins. From the Pros down to the Novice carvers.
Well Funkins Listened to our concerns, and not only did they have open ears, for these concerns, They invested not only their time, but a boat load of money, to re-tool their machines. They want to make and offer Us the best products both in look, and in the way it carves. that they can.
I hope you guys understand None of this was an easy decision for them, to do all this work and invest this money, Based on what A guy like me was telling them. In fact it's a nail bitter for them.
Prove to them they made the right decision and try their pumpkin products out.
Some People / carvers just don't Like change.
But Rest assured ! Funkin foam Pumpkins,
a) Carve and Shade much easier than that other brands.
b) There is absolutely No comparison on the Look / Style / Shape and even color. They are the closest foam pumpkin you will find that looks and glows like a REAL Pumpkin.
c) Works for both carving techniques - Both Shaded and Cut-Out Designs. The proof is in the carvings. and there's many examples on this page, on how well they carve.
Give them a TRY - if you carved funkins in the past, Give them another Try, As always we at stoneykins will answer any and ALL carving questions on our web forum.
And Don't forget to use your AC Moore, Hobby Lobby, Joannes and Micheal's Coupons, in most cases, you will get these pumpkins 40 to 50% off the sticker Price.
I will continue to be your voice, and keep a great working relationship with this awesome company!
We are now addressing the Very Large Jumbo Pumpkins for Next Year !.
Also if you didn't already - Please Show your Support & Gratitude to Funkins by liking their Facebook Page. Click here and Like Em ------>
http://www.facebook.com/pages/Fun-Kins/101526639984653
" onclick="window.open(this.href);return false;