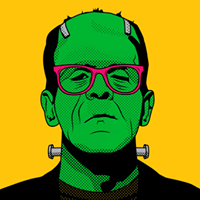 Thu Dec 12, 2013 1:34 pm
#84777
This is the Final Update on this Pumpkin / Project:
For this is What WILL be in the Micheals Stores Come (JULY/AUG).
I decided to create a new thread - for the Other thread talks about the 2013 Pumpkin.
Here's the Deal, The Stem will be the Same as Last year -
And I'm going to be honest and tell you why, Micheals is still going to use both companies to make these pumpkins.
So they need to Look the same, If everyone Purchases this NEW Pumpkin - Then chances are Micheals will eventually go with the One company.
ALL the Molds will need to be trashed, and re-created to give the pumpkin a New Stem, Which cost 10's of thousands of dollars.
IF this company gets MORE Sales from Micheals, then it is worth it for them to RE-MOLD.
BUT Here's the Plus's
And this is the Actual Pumpkin that will be Sold
a) Still NO Lines inside (HUGE BONUS)
b) Look at the Glow, not Only is it Glowing, But it's more Natural.
c) Works for BOTH Shaded and Cut through Patterns.
d) The Bulb used for this Carving is a 15 watt CLEAR Bulb - The Foam is Giving the Color of the GLOW.
For Shaded Patterns - I recommend a 15 watt Bulb - For 100% Cut-Out Designs a 5 Watt will do the trick.
So that's it - THE 2014 Micheal's Pumpkin
------------------------------------------------------------------------------------------------------------------------------
NEW PRODUCTS - These will be Sold in Different Stores. (Micheals or AC MOORE, or Joannnes, or Hobby Lobby, etc...
a) a Carvable Tombstone - Looks GREAT - I will post Photo's when I get it Back and carve it, the CEO needed it back to Show one of the chain Stores.
b) Carvable Christmas Balls - Their out there in a few stores to test sales this year, From what I'm told they are selling Well, so they should be in all the Micheals Stores next year. (Keep in mind that Micheals has (I Think) about 1,050) stores. So if these were in Say 200 stores, they will still be hard for us to find.
(I struck out in Philadelphia)
c) Funkins is Putting Out (2) NEW Foam Pumpkins, If you Liked the 2010 Gemmy Pumpkin, then Your Going to LOVE this One.
These Pumpkins will not Be in retail Stores, But Sold "on my WebSite" This is the One I helped Design. It will look and Glow Like a REAL Pumpkin.
This Model is Called the
Stoney-Kin
The shape is what it will be, the Foam Color/Carve is still in TESTING.
(I'm going to Try MY Best to keep Shipping Cost as LOW as I can)
d) We are also working on other Foam Shapes, that can be carved, Footballs, Xmas BELLS, Hearts for V-DAY, Eggs for Easter etc......
e) I'm not much for Sparkly things: But there will also be NEW Glitter Pumpkins (and they Look GREAT), these don't have glitter glued on the outside.
The Glitter is part of the Pumpkin Shell, So when carved, you wont see glitter on the table or flow, and the over-all Has a Glossy look to them.
The size is about 10" - Like the Small Micheals Pumpkin. These I belive will come in 4 Different Colors.
Once the Pumpkins are ALL good to GO, I'll get Samples of ALL these New Products, carve them, Suggest changes (if needed), then Post photo's and Info on where to Buy them.