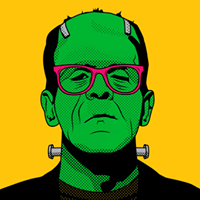 Thu Aug 08, 2013 12:25 am
#76566
Figure I share this here also.
For those that want to try their hand at carving a foam pumpkin with a dremel, but don't want to put out the amount of money Dremels cost.
Harbor Freight just started selling a Cheap Variable Speed Rotary Tool Kit
Variable speed control from 8000 to 35,000 RPM
(which equals Dremel speed)
Variable Speed Rotary Tool Kit
$21.99
http://www.harborfreight.com/variable-s ... 68696.html
Thanks to Doh for finding this - they are running a special this week you can get it for
$17.99
click me
Note: I Tested this out in the Store, and it has a plenty of power to carve foam kins.
The Only Issue is going to find a flex shaft that fits this (Dremel brand flex shaft does not fit this)
But you can carve a foam pumpkin without a flex shaft !
Last edited by
St0ney
on Thu Aug 08, 2013 12:37 am, edited 8 times in total.