Thu Nov 10, 2011 2:56 pm
#58855
Okay, i thought i would give stencilling onto a tote bag a go, i have seen some great examples on here, so decided to try it. I used fabric paint and painted the background instead of the cut out because i wasn't sure if it would be recognisable without some sort of background colouring. And of course i couldn't find my lovely new brushes i brought so i ending up using make-up brushes!
And while that sounded great in theory, they just didn't have the support of a proper paint brush, so some of the edges need touching up.
Anyhow i showed a few people and hardly anyone recognised him, Please tell you you guys can see who it is.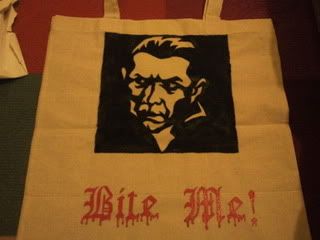 Sleep all day, party all night, never grow old, never die. Its fun to be a vampire!