Wed Oct 07, 2015 1:49 pm
#93319
Back after a year off.
Real life, huh? Spoils all the fun.
What's happened since then?
Well, two years ago, my time was so limited, I think I only carved three foam pumpkins.
Then came the tragedy. For those of you used to the temporary, in-the-moment-ness of carving real pumpkins, you may not understand... but the pain is real.
(Parental Advisory - the following contains descriptions of the deaths of foam pumpkins. You've been warned.)
Picture it, October 26, 2013, Southeastern Michigan... A not-so-young, idealistic man sets up a display of his pumpkin carvings at his church's Trunk-or-Treat. (It is great seeing the reaction of the kids to seeing the carvings!) All of a sudden (and I mean, "all of a sudden"), a storm comes up, gale force winds hit the parking lot, and before I can react, foam pumpkins go everywhere!
Folks, you ain't seen nothin' until you've see a fat man in his late 30's chasing foam pumpkins across a parking lot in the middle of a storm.
My pumpkins scattered, rolling over the asphalt of the parking lot like big, orange tumbleweeds. I rushed after them.
I wish I could tell you that I fought the good fight, and that all 12 of the pumpkins I had on display that night were safely recovered. I wish I could tell you that... but this is no fairy-tale world. None of my pumpkins escaped without damage, but... but four met with tragic end.
A moment of silence, please, for these fallen carves.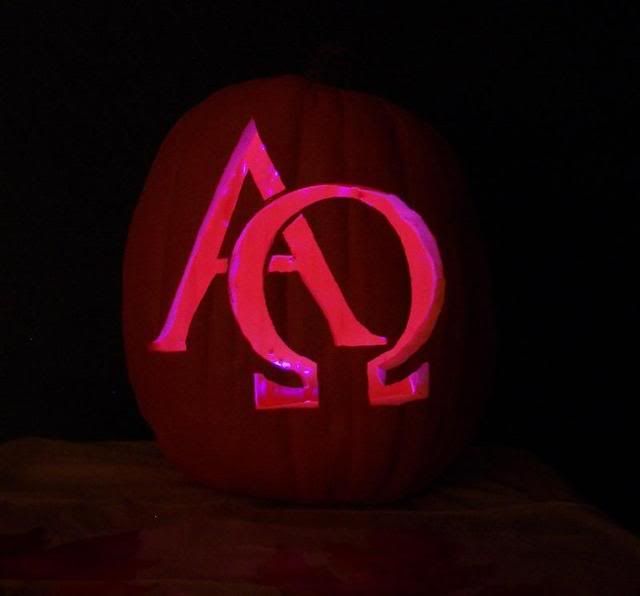 The Alpha Omega pumpkin. 2012-2013
In one of the violent bounces, the entire interior of the alpha was taken out, the small pieces scattered to the wind, and a pretty significant chunk of the center of the omega was obliterated.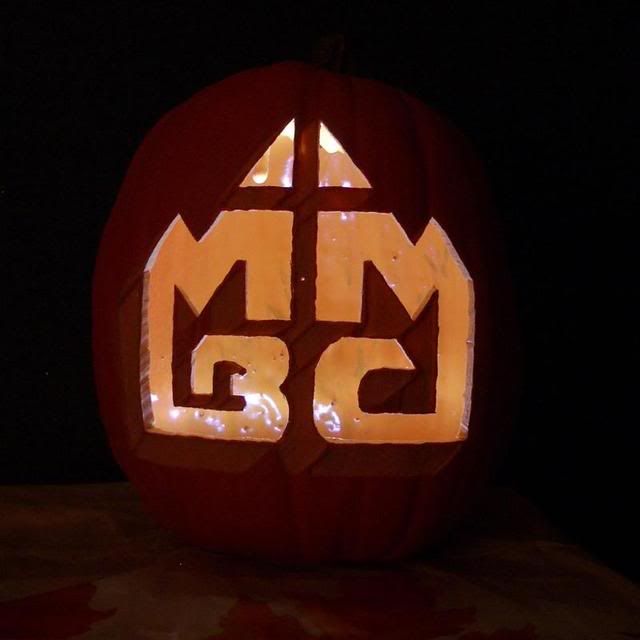 The MMBC pumpkin. 2012 - 2013
I don't know what this poor pumpkin ever did to the parking lot's mother, but it must have been severe, because when I recovered this one, the entire design was punched completely out of the pumpkin, leaving only the gaping hole in the shape of the outside border, and the foam pumpkin itself was split in two pieces.
Now, I don't want to say I loved some of my carves more than others, because I don't want them jealous of each other... but these last two really hurt.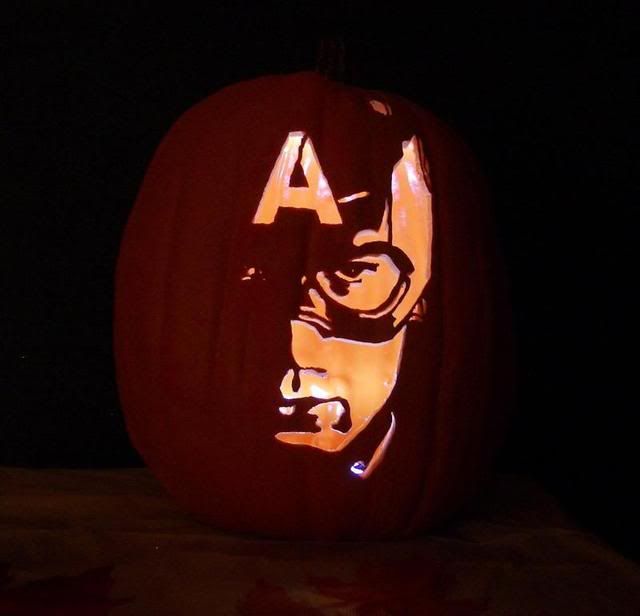 The Captain America pumpkin. 2012-2013
Ouch. Sure, the cuts were shaky, and it desperately needed improvement, but this was my first really complicated carve from a stencil I created! But, wind has no sense of right and wrong, and it cut this poor pumpkin down in the prime of it's life. All those thin pieces and details? Busted out, scattered, never to be found.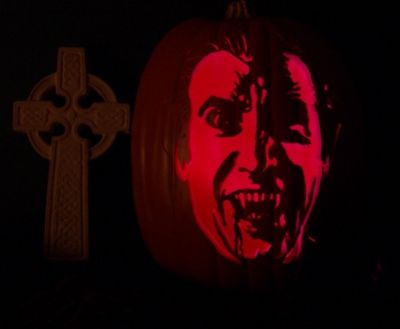 The Hammer Films Christopher Lee Dracula pumpkin. 2013-2013
I... I... give me a moment... I can do this...
Too soon! It was taken from us too soon!!!!!
Okay... pull yourself together, man! This, the most intricate pattern I ever made, the hours spent fine-tuning it, the cuts that cramped my hands, the time spent carving all those little details...
After the pounding it took in the parking lot, all that was left was a gaping, oval hole in the pumpkin. And in my heart.
__
In all seriousness, it was a bummer. I know I can carve these again, and I will, eventually, but it was a shame that the Dracula didn't survive even one full season.
And, it did take the wind out of my sails. My time last year was even more limited, but I think the massacre of the pumpkins was also a factor in not MAKING the time to do some carves, or even one.
This year, though I'm still busy, I'm getting that itch again. I want to do at least a couple. I don't know if I'll have time to make my own patterns, but if I don't, luckily, I know a great place to get some.
So, that is where I'm at. Just trying to find a place to jump back in here after too long away.