Hey Ryan...I prefer "Premo" brand polymer clay. I pick mine up at Michael's, but they also sell it at Hobby Lobby, JoAnne Fabrics, Blick art supply. Premo bakes very durable, unlike Sculpey.
Here's the catalog description...
http://sculpey.com/Products/PDFs/CPREMO_OCT08.pdf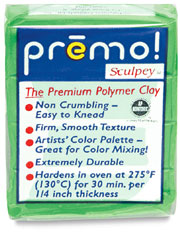 Can't wait to see what you come up with, and it would be pretty darn cool to get something in the mail!