Tue Oct 18, 2005 1:08 am
#312
I saw the fake pumpkins on sale at Micheals so I decided I would carve a design and give it to my grandparents so that they'd have an easy to use jack-o-lantern each year from now on. I chose a Peanuts stencil with Charlie Brown and Snoopy looking at the moon.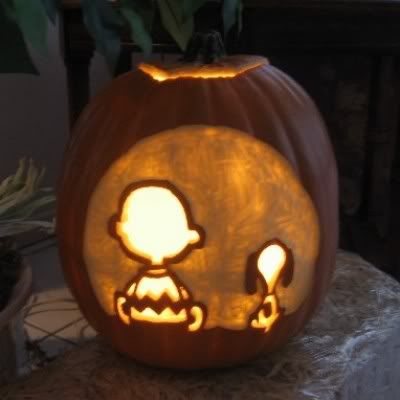 It was quite a task... I knew it wasn't going to be easy cuz I had heard that the 'fake' fake pumpkins (non-funkins) were not reliable at all and was prepared for it to possibly break at any moment etc. I carved with relative ease but the shaving was difficult. I used a dremel tool to go at it. I left the shaved area unsanded to keep the bumpy, gritty 'dremeled' look cuz I thought it looked neat. I still have to sand the inside as a thick ring of foam needs to be sanded down to give a uniform glow to the moon etc.
Tell me what ya think!
"Dr. Nourse, this outcropping is unmetamorphosed!" "No schist."